As we celebrate the glorious Resurrection of Jesus, let us freely surrender ourselves to Him. Let this Easter be a turning point in our lives, and joyfully give everything to Him.
This week make a point of meditating on the Glorious Mysteries, which focus on the Resurrection, Ascension, Pentecost, the Assumption, and the Coronation of Mary. In praying these mysteries, we deepen our understanding and unite ourselves to Jesus and our Blessed Mother in prayer.
Check out this video by Father Lachman Cameron on what it means to surrender to Jesus.
Listen to Christ is Risen by Matt Maher. Let us rejoice and be glad in Him!
UPCOMING EVENTS
TUESDAY, APRIL 23
TWU House – Office Hours 6:00pm-8pm
Soccer Game – Come support our team Triple C at 7:45pm
WEDNESDAY, APRIL 24
Confessions at 4:30 pm at Little Chapel on the Woods
Mass at 5:30pm
Meal at 6:30 pm at TWU House
Night prayer at 7:20pm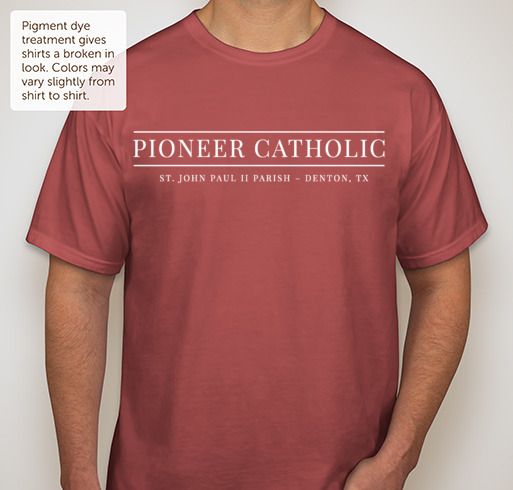 PIONEER CATHOLIC T-SHIRTS
Buy yours at Wednesday night dinner! Cost is $20.
UPCOMING EVENTS- JPII University Parish
---
MONDAY, APRIL 22
7p-9p RCIA
9:15-10:15p Praise with adoration
TUESDAY, APRIL 23
8a-7p Adoration
12:05pm Mass
5pm Spanish Mass
6pm-7pm Confession
6pm-9pm Young Adult Ministry
WEDNESDAY, APRIL 24
Confessions at 4:30pm at Little Chapel on the Woods
Mass at 5:30pm


THURSDAY, APRIL 25
4:30PM-5:30PM Adoration and Confession at Goolsby Chapel
5:30pm Mass at Goolsby Chapel
FRIDAY, APRIL 26
SATURDAY, APRIL 27
4pm-5pm Confession
5:30pm Vigil Mass
SUNDAY, APRIL 28
8:30am, 11am, 7:30pm Mass at UNT Goolsby Chapel
5:30pm Mass at TWU's Little Chapel in the Woods
10pm 48 Hours of Adoration begin